Halifax Stanfield International Airport Parking
🅿 Book Parking Online NOW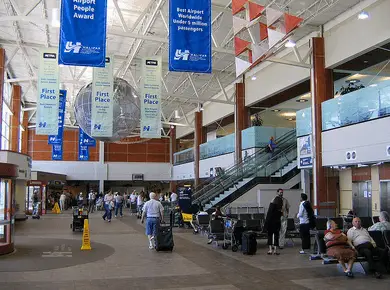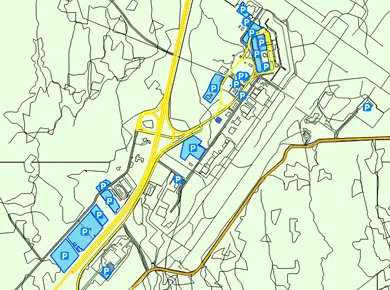 Halifax Stanfield International Airport or YHZ, is a public airport, situated in Goffs, Nova Scotia, Canada, serving Halifax Regional Municipality. Handling around 4.3 million passengers and total of 84 thousand aircraft movements it ranks 8th as busiest airport in Canada by passenger conveyance. Halifax is a hub airport for Air Canada Express, Cougar Helicopters, Maritime Air Charter, PAL Airlines and SkyLink. Airport has single two-storey Air Terminal Building (ATB) and two runways. You can find domestic and international arrivals, baggage claim area, check in and several food and beverage places like Pannizza, Starbucks and Subway on the level 1. Level 2 includes the total of 60 Gates, such boutiques like Halifax Market, Hudson and MetalSmiths Sterling and such cafes and restaurants like Bia Mara, Booster Juice and Spirit of the Maritimes. The airport can be reached through Exit 6 of Highway 102, that connects Halifax to the Trans-Canada Highway.
YHZ Parking
There are four options to choose from at Halifax International airport parking: Parkade – Hourly, Parkade – Daily, Terminal Exterior Parking Lot and Park'N'Fly. Parkade is a four-storey parking garage with open non-covered top floor, located right across the Air Terminal. It can be easily accessed via footbridges from the terminal. Short-term Halifax airport parking is situated on P1 and P2 Parkade levels, you can find it by following the "Hourly Parking" signs. Long-term or "Daily" parking occupies the majority of four floors of the Parkade. The open-air Exterior lot is located right behind the Parkade, only a few minutes walk from the terminal. The outdoor long-term Park'N'Fly lot is situated a bit further, but worry not as free airport shuttle bus service is available 24/7. Halifax airport parking fees are listed below.
Halifax Airport Parking Rates
Hourly Halifax airport parking costs $3 per each 30 minutes of the first hour, then $4 per hour beyond the first hour, without daily maximum. Daily parking rates are the same as for Hourly parking, only with daily maximum of $22 and weekly maximum of $110. First hours rates at the Exterior lot are the same, up till daily maximum of $19 and weekly maximum of $95. Park'N'Fly lot rates $16 per one day with weekly maximum of $80.
Free parking Halifax airport
If you are flying from Halifax International Airport and looking for a proper place to leave your car, the best choice would be the ALT Halifax Airport Hotel. ALT offers next convenient packages: Sleep and fly 8 days, where you can stay for one night at the hotel room and leave one vehicle for 8 days at the exterior parking or One night stay with 15 days exterior parking. The exterior parking has a very easy to reach location, as it is situated right outside the hotel and next to the air terminal. The ALT hotel even received the Trip Advisors Certificate of Excellence. Also don't forget to use Halifax airport parking coupons in order to receive Halifax airport parking discount and save even more money!
---
🅿 Book Parking Online NOW
Halifax Stanfield International Airport Parking Map
---