Green Bay Airport Parking
🅿 Book Parking Online NOW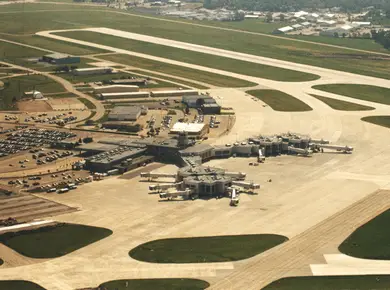 Green Bay–Austin Straubel International Airport (GRB) is a public use airport that is located just several miles southwest of downtown Green Bay, in the village of Ashwaubenon, Wisconsin. It is owned by Brown County and serves Northeastern Wisconsin. As for today the FAA categorized Austin Straubel airport as a non-hub primary commercial service facility. Green Bay International Airport is the fourth busiest passenger traffic commercial airports in Wisconsin. Working with American Eagle, Delta Air Lines, Delta Connection, Frontier Airlines and United Express, the airport serves more than 650 000 passengers every year, raising the airport aircraft operations up to 50 000.
Austin Straubel airport is a two-story terminal building that is very easy to navigate through. The first floor includes all the airlines check-in desks, baggage claim area, rental car offices, vending machines and ATMs. The second floor is divided into two Skybox lounges: Concourse A and Concourse B. Each one can offer you a separated family area room and a business center. You can also find Free Wi-Fi network available, as well as free charging stations throughout the terminal.
Green Bay airport parking
Airports huge plus are the parking lots. Parking at Green Bay airport is very convenient as both Short term and Long term parking lots are located right across the main terminal, and a glass covered walkway can make you trip even better. The parking facility offers over 200 short-term and more than 1,700 long-term parking spaces. You can use any of the four entrances to the Long term parking lot and two entrances to the Short term parking lot. While entering, receive a ticket, park your vehicle and pay upon exit at either the automated credit (debit) card exit lane or at the staffed lane. Handicapped parking spaces are available in both Long and Short term lots. If you are planning a long trip, consider your parking options as all the airports parking lots are outdoor-type only. Also if you ride the motorcycle, note that because of parking equipment limitations, motorcycles cannot use the pay parking lots.
If you came to pick up arriving passengers you can use the Cell Phone lot and wait for their call there. In contrast to standard parking lots, Cell Phone lot is absolutely free. But please keep in mind that the driver cannot leave the vehicle unattended. You can find the Cell Phone Lot on the right-hand side of the main entrance road, shortly after passing through the Airports entrance.
Green Bay airport parking fees
The Short Term Green Bay airport parking rates $1 per each 30 minutes up to $16 daily rate. The Long Term Green Bay airport parking cost $1 per one hour up to daily rate of $8 and weekly rate of $40.
---
🅿 Book Parking Online NOW
Green Bay Airport Parking Map
---