General Mitchell Airport Parking
🅿 Book Parking Online NOW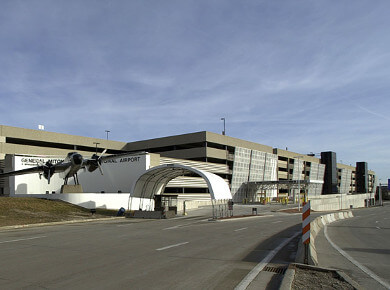 Located five miles south of downtown Milwaukee, General Mitchell Airport (MKE) is the largest airport in the state of Wisconsin. It is named after United States Army Air Service General Billy Mitchell, often regarded as the father of the United States Air Force. The airport is served by 14 major airlines boasting more than 40 nonstop flights to major cities all over the country, with connections to the rest of the world.  The airport handles more than 6 million passengers annually, and parking at one of the on-site parking lots can be problematic.   We can assist you for easy airport car parking, select amenities and calculate cost.
Mitchell Airport Parking
The airport has two main parking options in its parking garage which is connected to the terminal by skywalks. The Hourly section of the parking garage is ideal for traveler parking less than five hours. It is available on the 3rd & 4th floors of the red area of the parking garage.  Daily Parking is available on all floors of the parking garage and is best for a minimum stay of 5 hours or overnight parking. It also has a SuperSaver Lot located only minutes from the terminal with free shuttle bus service which run every 10 minutes, 24 hours a day, as well as a Surface Lot located south of the parking structure and is within walking distance of the terminal. A Cell Phone Waiting Area with 30 designated parking is located in the Surface Lot. There are a number of off-site parking garages and lots near the airport and in the city. These lots provide short term or long-term parking options and may provide shuttle services to and from the airport, valet parking, baggage assistance, and car services.
Milwaukee Airport Parking Rates
Hourly, Daily, Surface and SuperSaver lots costs $2 per hour. Hourly Parking costs $23 per day, Daily Parking costs $13 per day, Surface lot costs $14 per day, and SuperSaver costs $7 per day. Off-site parking lots costs starts at $4 per day, and discounts may be offered for online bookings, prior reservation, and promo codes. With so many options, saving on parking costs and finding the perfect parking spot can be mind boggling! Allow us to provide you with more information about parking options and amenities, and calculate costs.
---
🅿 Book Parking Online NOW
General Mitchell Airport Parking Map
---