Gainesville Airport Parking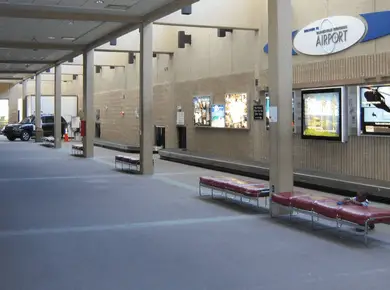 Gainesville Regional Airport is ranked among the primary commercial service airports in the National Plan of Integrated Airport Systems for 2011–2015. This means it can handle more than 10,000 passengers a year. It is situated three miles Northeast of Gainesville in Alachua County, Florida, which is about 20-25 minutes from downtown, Gainesville. It now handles over 200,000 passengers every year and sustains four airlines for regional flights.
As much as the airport is a small one compared too many in Florida, it offers a sustainable number of amenities and small businesses such as taxis, rental cars, postal services, ATMs, shoe-shine services and Wi-Fi. There is also a variety of hotel options for you within nine miles of the airport.
Gainesville Airport Parking Rates
Parking at the Gainesville airport has been made convenient by the availability of different parking options. This includes short term parking and long term parking. Gainesville airport parking fee is also very affordable for anyone using the airport parking.
The short term parking option has one entrance on the east side of the lot. The rates are as follows: 0-30 minutes at $1; 30 minutes to one hour at $2; 1-2 hours at $3; 2-3 hours at $5; 3-4 hours at $7; 4-5 hours at $9; 5-6 hours at $11 and 6-24 hours at $12. A daily rate applies after that.
Gainesville Airport long term parking has two entrances. One on the east and the other on the west side of the lot. Up to 30 minutes, the charging fee is $1. For 30 minutes up to two hours a $2 rate applies, 2-3 hours at $4, 3-4 hours at $6, 4-5 hours at $8 and 5-24 hours at $9. After that, a daily rate pay applies. There is also a weekly parking rate of $55.
The airport accepts cash and all major credit cards during payment.
Gainesville Airport Special Parking Options
Disabled parking
The presence of disabled parking in both the short and long term parking lots adds to the convenience of the airport.
Anyone with a vehicle with features for helping a disabled person is exempted from any parking fee. However, the Gainesville Florida airport parking fees apply to anyone who parks at a lot with the disabled parking permit.
 Automated self-pay parking
Gainesville Florida airport parking makes use of a parking system that has automated pay and also new technology for ticketing.
Customers at the airport can press a ticket button to retrieve a ticket upon entry and open the gate. Also, they can swipe their credit cards for the same to open the gate. They will not be charged again till departure from the airport.
---
Gainesville Airport Parking Map
---