Eugene Airport Parking
🅿 Book Parking Online NOW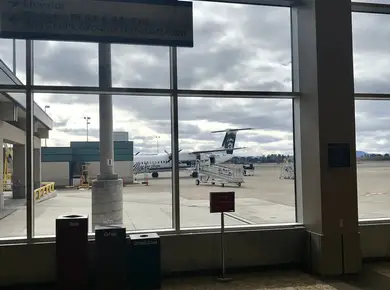 Popularly known as Mahlon Sweet Field, Eugene airport is a public entity located 11 kilometres northwest of Eugene city, Lane County, Oregon. The airport covers an area of 2600 ac. and is ranked 5th in the list of largest airports in Pacific Northwest. This busy airport handles over a million passengers every year. The number of travellers continues to increase with the top destinations like Seattle/Tacoma, Washington, San Francisco, and California. Aside from offering reliable flights to over 10 destinations, Eugene airport also offers a variety of parking options to its passengers, and with its modern upgrades, parking at Eugene airport is not only convenient but also secure.
Eugene Airport Parking Categories
The airport offers three types of parking options – the short, long-term, and economy lot parking. It also has ADA parking spaces charged at the economy lot rate. Rates at the Eugene Oregon airport parking are calculated on hourly, daily (based on 24-hour period), and weekly basis.
Parking Fees
Eugene airport parking fees vary on type and duration of parking. For passengers who want to spend minimal time in the parking garage, the short-term lots are readily available. On the other hand, Eugene airport long term parking serve passenger who wants to leave their cars for a prolonged period. Eugene airport parking prices are as follows:
-  Short term Parking - $1.25 every half hour or $14 daily rate
-  Long term Parking - $2.50 hourly rate, $12 daily rate, or $72 7-day rate
-  Economy rate Parking - $2.50 hourly rate, $10 daily rate, or $60 7-day rate
ADA parking spaces - $10 daily economy rate. For the ADA rate, the hourly or weekly options are not available. The ADA parking area is located within the short-term parking area.
Disabled parking - $8 fixed rate per day. The disabled parking area is located inside the short-term parking
For the short term, long term, and economy parking, fees are paid using a credit card. Payment is self-service and passengers can pay by pulling into any of the available express lanes and inserting their parking tickets in the available machines. The machine displays the fee to be paid and allow the passenger to make a payment using a credit card. ADA parking fees are paid at the attendant booth and not in the credit card express exit like with the other parking options.
The overall capacity in the short-term parking is 237 cars, the long-term accommodates 1000 vehicles, while the economy lot can hold 582 of them. 
Airport special parking options
Eugene airport parking options take the needs of the disabled into consideration. These lots are conveniently located in the short-term lot sitting right next to the terminal. Although the economy airport parking is cheaper than other lots, it is at a considerable distance from the terminal. An economy lot shuttle provides convenient transport from the economy lot to the terminal. The passengers who want to use the economy lot shuttle should make a request upon arrival. However, the shuttle service is efficient with a wait time of between 5-7 minutes, especially during peak hours.
Eugene Airport Parking FAQs
How Much Does It Cost to Park at Eugene Airport?
If you're looking to park at the Eugene Airport, there are a few things you need to know. First, the airport offers both short-term and long-term parking options. Short-term parking is meant for those picking up or dropping off passengers, and it costs $2 per hour. Long-term parking is meant for those leaving their vehicles at the airport while they travel, and it costs $18 per day. 
There are also a few discounts available - AAA members can get a 10% discount on long-term parking, and military members can get a 20% discount.
Does Eugene Airport Have Parking?
Yes, the Eugene Airport parking is available for now. The following information is from their website: 
Most hourly parking is located in front of the terminal on the first level. The first fifteen minutes are free. 
Short-Term Parking lot 1 & 2 are $2 for the first half hour and $1 for each additional half hour, with a maximum daily rate of $24. Long-Term Economy Parking lot 3 is $10 per day, with a shuttle to and from the terminal every 15 minutes. Electric Vehicle (EV) Charging Stations are available in all three lots at no charge; drivers must provide their own cords. 
Where Can I Park Overnight in Eugene?
Eugene has a few options for overnight parking. The first is to find a spot on the street and park there. Metered spots are free after 8 PM, and there are usually some spots available in downtown Eugene. Another option is to park in a parking garage. The Pearl Street Garage is open 24 hours and costs $1 per hour, or you can buy a daily pass for $8. Finally, there is also the Lane County Fairgrounds, which offers free parking after 6 PM.
Is There a Shuttle from Economy Parking at Eugene Airport?
No, there is no shuttle service from Economy parking at Eugene Airport. However, there are a few options for getting to and from the airport. There is a taxi stand located in front of the terminal, and many of the local hotels offer shuttle services. You can also use Uber or Lyft to get to and from the airport. Eugene Airport is served by Allegiant, American, Delta, JetBlue, and United Airlines.
How Many Terminals Does Eugene Airport Have?
Answer: Eugene Airport has two terminals. The first terminal is for commercial flights and the second terminal is for general aviation.
The first terminal, also known as the Commercial Terminal, has two concourses: A and B. Concourse A has six gates: 1-6, and Concourse B has four gates: 7-10. The second terminal, also known as the General Aviation Terminal, has a single concourse with six gates.
How Early Should I Arrive at Eugene Airport?
The short answer is that you should arrive at the airport at least two hours before your scheduled flight. The long answer is a bit more complicated.
Each airline has its own policies with regard to how early passengers need to check in for their flights. Some airlines require passengers to be checked in an hour before the flight, while others require passengers to be checked in up to three hours before the flight. It's best to check with your airline or on their website to find out what their specific policy is.
In addition, the Transportation Security Administration (TSA) also has its own policies with regard to how early passengers need to arrive at the airport for security screening.
---
🅿 Book Parking Online NOW
Eugene Airport Parking Map
Parking name
Phone number
---