Edmonton Airport Parking
🅿 Book Parking Online NOW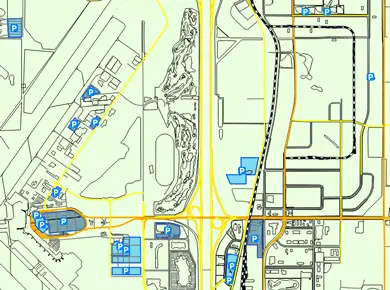 The largest by area among all Canadian airports, Edmonton Airport is located about 20 miles from the downtown area of the city of Edmonton known as the "Gateway to the North" and "Canada's Festival City". The airport is the fifth  busiest in Canada, handling about 8 million passengers annually. Edmonton Airport is served by 18 domestic and international air carriers providing nonstop flights to 58 destinations across Canada, Latin America, the United States, and Europe. Aside from servicing the needs of passengers traveling to and from the city, the airport is the nearest major airport to Jasper National Park, the largest national park in the Canadian Rockies. The airport is busy all year round, and parking can be a problem and expensive. Through our website, you can choose from a variety of parking services, select amenities, calculate costs for an easy parking experience.
YEG Airport Parking
The airport offers 4 parking options. The Easy Parkade is a covered parking structure adjacent to terminal with a covered pedway, providing access to the departure area. The Value Park is ideal for long term self-parking, and is a few minutes to the terminal via a shuttle. The Executive Park is strategically located within the Easy Parkade. The Priority Valet is an exclusive parking area for passengers who opt for valet services. For more than 30 days of airport parking Edmonton, travelers must inform the airport beforehand.
We have a list of car parks near the airport or in the city which you might consider. These are great alternatives to parking in the airport. Most of these car parks offer valet parking, courtesy shuttle, and additional services including luggage assistance, car wash, and interior and exterior detailing. If the car park does not provide shuttle services, you can take a cab, Edmonton Skyshuttle, or a public bus to and from the airport.
Edmonton Airport Valet, Long, Short Term Parking Rates
Easy Parkade rate starts at $5.50 per hour, $30 daily, and $150 weekly. Value Park rate starts $3.75 for half an hour, $19 daily, and $95 weekly. Executive Park rate starts at $5.50, $32 daily, and $160 weekly. Valet Parking rate is $40 daily, and $250 weekly. You redeem your Edmonton airport parking coupon for discounted parking. For off-site parking, discounted rate starts at $3 per hour, $9.66 daily, and 149.25 weekly. Save on your parking fees so you can spend more while on a trip. Consult with our staff so you can choose from a variety of parking services, select amenities, and compare and calculate costs.
---
🅿 Book Parking Online NOW
Edmonton Airport Parking Map
Parking name
Phone number
---