Duluth Airport Parking
🅿 Book Parking Online NOW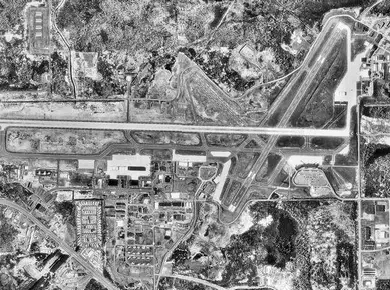 Duluth International Airport (DLH) is a city owned, both public and civil-military airport situated just northwest of Duluth City, Saint Louis County, Minnesota, United States. It also operates for the Twin Ports area, including Superior, Wisconsin. By the latest reviews, it is the third busies airport in Minnesota, serving more than 60 thousand aircraft operations each year. The most popular destinations are to Chicago O'Hare International Airport and Minneapolis–Saint Paul International Airport.
The main terminal is a recently renovated three-story building that includes all the modern airport necessities. The first floor as usual includes the baggage claim area, ticketing and check-in desks as well as car-rental services. The second floor offers the seating area before the security checkpoint with Arrowhead Grab n Go beverages available, and rentable conference rooms for business travelers. The next area beyond the security checkpoint also includes comfortable waiting area with Arrowhead Taphouse where you can dine and shop. The third floor holds more conference rooms and administration offices. "Duluth Airport Public Wi-Fi" is a free Wi-Fi access point, available for all the guests and customers of the airport alike. Terminal operates 24/7.
Duluth MN airport parking
Airport parking Duluth MN offers outdoor parking spaces and a separate covered garage parking lot. Both lots can be easily accessed from the terminal building. There is a convenient skywalk bridge that allows you to access the garage right from the terminal. Duluth airport parking ramp is an enclosed garage parking lot with open type top floor. The outdoor lot is located behind the garage, but can be easily accessed as it is situated right across the terminal building. In order to make traveling experience even more comfortable and convenient, the Cell Phone lot is there to help you. This parking is free of charge, meant to be used for quick picking up arriving passengers. Please note that the driver cannot leave the vehicle unattended.
Duluth international airport parking has a special offer for regular customers of the airport. There are special corporate parking spots for frequent travelers. VIP spots for Parking at Duluth airport can be easily accessed through a separate entrance gate which greatly saves your time. The VIP section has a full climate-control and direct access to the terminal. It also can be conveniently reserved beforehand.
Duluth airport parking cost
Parking at Duluth international airport is free for the first 15 minutes. Duluth airport parking fees for outdoor lot and the garage parking lot are basically the same. First hour costs $3, staying up to 2 hours - $5, parking for 2 to 6 hours - $9. Daily rate is $13. Weekly Duluth airport parking rates $78. Lost Duluth airport parking tickets will be charged as full rate for each day that the car was parked.
---
🅿 Book Parking Online NOW
Duluth Airport Parking Map
---