Des Moines Airport Parking
🅿 Book Parking Online NOW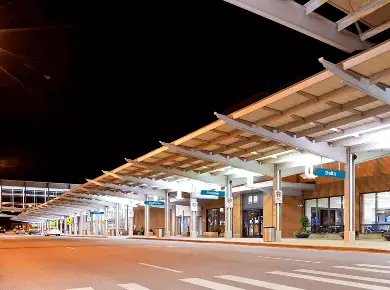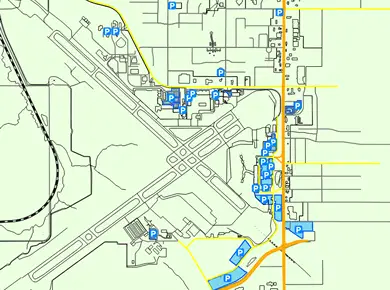 Located just three miles southwest of Des Moines, Iowa, Des Moines International Airport (DSM) was established in the 1930s and has since been expanded and renovated to accommodate passengers from the city and its surrounding areas. Aside from being a primary commercial service airport, Des Moines Airport is also the home of the Des Moines Air National Guard Base and 132nd Wing (132 WG) of the Iowa Air National Guard. The airport is the busiest in Iowa, handling about 2 million passenger movement annually. It is served by six air carriers with flights to twenty domestic nonstop destinations.  Finding the best airport parking spot for your vehicle requires planning, and through our website, you can choose from a variety of parking service, select amenities, and calculate costs, making your overall parking experience, easy, fast, and economical.
DSM airport long & short term parking
The airport offers a number of DSM airport parking options. The Short-Term Lot is located across the airport and is ideal for hourly parking. The Long Term Parking Des Moines Airport is located behind the Short-Term Parking Lot, and ideal for longer stays.  Economy parking Lots 1 and 2 are located minutes from the terminal and a shuttle service to and from the airport is provided. Economy Lot 3 is nearer the terminal and no shuttle service is provided. Economy Park 4 is a seasonal parking lot minutes away from the airport.
Because the airport is near the city, there a number of car parks that are alternatives for Des Moines Iowa Airport parking.  These are well-secured car park facilities that offers several services so you can avoid the hassle of parking in the airport. Services may include valet parking, courtesy shuttle, car wash and car detailing, and luggage assistance. For more information regarding parking options, consult with our professional staff.
DSM airport parking rates
If you are wondering how much does it cost to park at airport lots, short term parking is free for the first 20 minutes, $1 for each additional 20 minutes, and $26 daily. Long term parking costs $14 per day. Economy 1 and 4 parking costs $5 daily. Economy 2 parking costs $7 daily. Economy 3 parking costs $10 daily. Off-site parking cost starts at $2 for the first two hours to $7 per day. You can use your Des Moines airport parking coupons to avail of discounted rates. Not sure which is the best option for your vehicle? Consult with our friendly staff who will gladly assist you for a stress-free parking experience.
---
🅿 Book Parking Online NOW
Des Moines Airport Parking Map
Parking name
Phone number
---