Denver Airport Parking
🅿 Book Parking Online NOW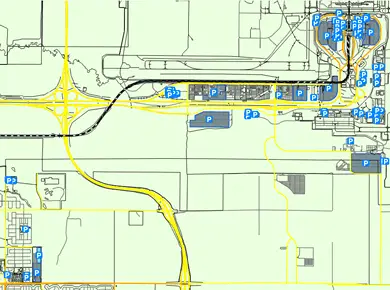 The 6th busiest airport in the United States handling more than 50 million passengers annually, Denver Airport (DEN) is served by 22 domestic and international carriers linking Denver to major cities in the country, and nonstop service to 20 international destinations in eight countries. With 1,500 daily scheduled departure flights in one main terminal and 5 parking lots, DIA parking can be stressful. With a little planning and help from us, parking can be stress-free, cheap, and safe.
Denver International Airport Parking
There are eight on-airport parking options offered by the airport. For short term parking, Short term East and Short Term West are just a five-minute walk to the terminal, while Garage East and Garage West are five to ten minutes walking distance to the terminal. Valet parking is available in Valet East and Valet West parking lots. Economy East and Economy West are ideal for long term parking with free shuttles to ferry passengers to the airport. Airport parking DIA has two airport shuttle parking lots off-site, as well as a Cell Phone Waiting Lot.
Parking Denver Airport Off-Site Parking Options
There are a number of carparks near the airport that provide parking services and amenities which are alternatives to parking on-site. These car parks provide courtesy shuttle to and from the airport making parking easy and convenient, as well as other services such as car wash, interior and exterior detailing, car maintenance in a safe and secured environment.
DEN Parking
Denver Airport is 215 miles from downtown Denver where there are car parks that provide the same service to parking lots in the airport or in its vicinity. These car parks are ideal for long term parking for all type of vehicles including cars, motorbikes, scooters, and oversized vehicles. All you have to do is park your car, and take the University of Colorado A Line from downtown, arrange a shuttle service or enjoy shared ride vans with other passengers.
Denver Airport Long & Short Term Parking Rates
On-site airport parking facilities rates starts at $4 per hour and $96 per day in short term parking lots, $3 per hour and $13 per day in long term parking lots. Valet Parking costs $12 for the first hour and $33 per day. For car parks near the airport and in the city, parking rates are affordable with some of them offering discounts for pre-booking and online booking. Daily rates start at $6.50 and monthly rates at $135. You can actually save by choosing the right parking lot, and GoToAirportParking is your partner in finding the perfect parking spot, calculate costs, and select amenities you want to avail.
---
🅿 Book Parking Online NOW
Denver Airport Parking Map
---