Chicago O'Hare Airport Parking
🅿 Book Parking Online NOW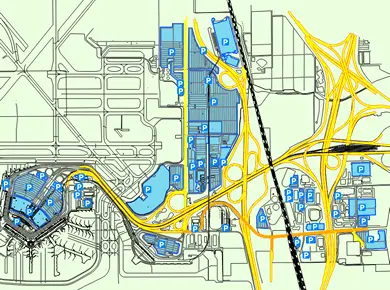 Chicago O'Hare airport is the largest airport in northwest Chicago. Many people travel from this airport and use its parking services every day. People can come to the airport by a train, however, the majority of passengers prefer to reach it by a car because of a heavy luggage. Needless to say that parking near O'Hare airport Chicago is well-organized.
Types of parking at Chicago O'Hare international airport
Parking at Chicago O'Hare international airport has several types, so any traveler can choose the right option. The airport parking types include hourly, daily, international and economy areas. For example, Lot D is the main parking area in the airport and it is located near the International Terminal. Long term parking at O'Hare airport Chicago is arranged especially for long car stays. Short term parking includes payment on an hourly and daily basis.
There are also economy parking lots that can be used for an affordable cost in the airport. Cell phone parking solutions can be found here as well. It is the best option when you are waiting for someone who is arriving. This type is free of charge. Moreover, the airport has valet parking services in a very convenient Lot A. This area has staff assistance and all conditions for trouble-free parking.
Chicago O'Hare airport parking rates
Basically, Chicago O'Hare airport parking rates depend on a lot type. However, many travellers, who often fly from or to this airport, think that parking services prices are too high. For instance, hourly parking costs $60/day, daily parking $35/day. Those people who want to save money, first of all, can use economy parking services. Economy E Lot costs $17/day, Economy G Lot - $10/day International parking zone price is also high - $60/day.
If you want to find very cheap parking near Chicago O'Hare airport, it is better to search for discount. Even the airport often offers some discounts for its clients. It doesn't mean that you can get huge discount, but anyway you will save some money. Unfortunately, Chicago O'Hare airport parking fees aren't affordable, but still many travellers use these services.
---
🅿 Book Parking Online NOW
Chicago O'Hare Airport Parking Map
---