Charlotte Douglas Airport Parking
🅿 Book Parking Online NOW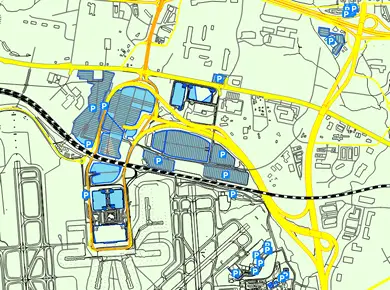 One of the busiest airports in the United States, Charlotte Douglas Airport was once the 6th busiest airport in the world. The airport was established in 1935 as the Charlotte Municipal Airport. It was renamed to Douglas Municipal Airport in honor of former Mayor Ben Elbert Douglas of the city of Charlotte, who administered the construction of an airport. Today, the airport is known as the Charlotte Douglas International Airport. The airport handles about 44 million passenger movement annually, and 700 departures and landings daily. The airport is served by nine air carriers linking the city to the rest of the United States, Canada and Europe. The airport has one terminal with 5 concourses, and 9 parking options. Because parking is on a first come first serve basis, parking at Charlotte Airport needs more planning than usual. Through our website, you can choose from a variety of parking services, select amenities, and calculate costs, for an overall easy, fast, and worry-free parking experience.
Charlotte Douglas Airport Parking
The airport has nine parking options, and for your convenience, you can check the Charlotte Airport parking status which is updated daily. The Cell Phone Lot is for motorists waiting for passenger arrivals For Charlotte Douglas airport long term parking, there are three long term lots for passengers going on long trips excluding the Daily North and the Daily Deck parking lots which can also be used for long term parking. The Hourly Deck is ideal for short term parking. The Curbside and the Business Valet parking are for passengers who want to be on the go.
There are a number of car parks located near the airport and in the city, that are great alternatives especially if you want to save time and money. These well-secured car parks may provide valet parking services, courtesy shuttle, luggage assistance, and car maintenance services. Through our website, you can choose from our wide selection of parking services, select your amenities, and calculate costs.
Charlotte Douglas Airport Parking Fees
For the Long Term Lots, parking costs $7 a day. Hourly Deck parking is free for the first hour, $1 for additional 30 minutes and $20 maximum per day. Daily North Lot parking costs $8 a day, and the Daily Decks parking costs $10 a day. Business Valet Deck costs 14 a day, while Curbside Valet costs $35 a day. Off-site car parks offer competitive rates, some of which provide discounts for pre-booking, online booking, frequent parkers and corporate accounts. We can provide you with more details about your parking options and costs, making your parking experience stress-free, uncomplicated and economical.
---
🅿 Book Parking Online NOW
Charlotte Douglas Airport Parking Map
Parking name
Phone number
---