Bradley Airport Parking
🅿 Book Parking Online NOW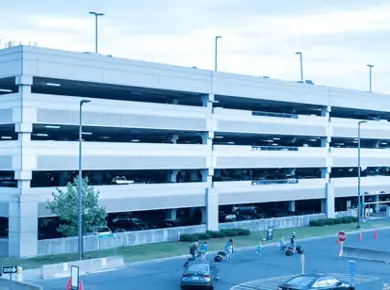 Named after Lt. Eugene M. Bradley who died when his P-40 crashed during a dogfight training drill in 1941, Bradley Airport is located Hartford, Connecticut, although it is the closest major airport to Springfield, Massachusetts. The airport is the gateway to both cities, the reason why it handles more than 5 million passenger movement annually. Bradley airport is served by 8 major air carriers that flies to more than 30 US cities, as well as to Puerto Rico and Canada. Bradley airport is the busiest airport in Connecticut, and parking at Bradley airport can be tiresome especially for on-the-go travelers. We can assist you in finding a parking service, select amenities and calculate costs.
Bradley Airport Parking
The airport has two garages, the Short Term Garage and the Long Term Garage and additional 4 parking lots, 3 for economy parking and 1 for long term parking Bradley Airport. Both the Short Term and Long Term garages are closest to Terminal A. Lot B is a short walk to the airport and does not provide any shuttle service. Long Term lot 1, and Economy Lot 3 and 4 provide shuttle buses to the terminal for all airlines.
There are car parks near the airport and in the cities of Springfield and Hartford that are alternatives to Bradley International airport parking. Some of these car parks offer special rates and extra amenities and services including valet parking service, courtesy shuttle, car wash and car maintenance.  They are well-lit and secured parking lots ideal for short and long term parking. There are a number of car parks that offer executive parking Bradley Airport options which boasts of extra security measures, car care services, and specially trained drivers to bring you and pick you up from the airport. You can inquire from our friendly staff about parking options, select the amenities you want to avail, and we can calculate the costs for you.
Bradley Airport Parking Rates
The cheapest parking at the airport are at the Economy Lots and Long Term Lot with rates starting at $4 for up to one hour. Daily parking is also available and rate ranges from $7.50 to $30. For off-site parking, fees start at a discounted rate of $4.36 per day. There is so much to consider when choosing the best parking option. Save more and enjoy a stress-free travel when you consult with us. We can provide you with the best parking service available.
---
🅿 Book Parking Online NOW
Bradley Airport Parking Map
---