Boise Airport Parking
🅿 Book Parking Online NOW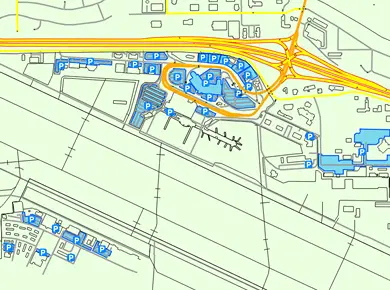 Boise city airport or BOI, is both civil and military airport, located just 3 miles south of Boise, Idaho, USA. It appears to be the busiest airport in Idaho state, operating more passengers annually than all the other airport in Idaho summed altogether! Boise Airport serves roughly 3.5 million passengers every year. Such airlines as Alaska Airline, Allegiant Air, American Airlines, American Eagle, Delta Airlines, Delta Connection and others operate charter and scheduled flights to and from Boise airport. Seattle-Tacoma, Denver, Salt Lake City, Portland, San Francisco and others are the most popular BOI routes.
Boise Airport Parking Options
Apart from 1-hour free Cell Phone Waiting Lot, which is a perfect choice for waiting in the car for the arrivals, there is a choice of 5 different parking options. Two Boise airport long term parking lots are: Long-Term Central Garage, which can be accessed directly by the sky bridge, and Long-term Surface Lot, which can be reached via Airport road. There is also a Short-Term Lot that is located right across the Terminal. The West Garage provides both short-term (level 1) and long-term (level 2-4) parking spots, it is located right behind the Short Term Lot. The Economy also known as Overflow Lot may be available ONLY in case if all the other parking places are occupied. It can be reached via shuttle bus service that runs about every 15 minutes and are available for arrived passengers daily. You can check the parking capacity online or look for Gateway Signs at the airport for more detailed information about vacant parking spots. Modern vehicle charging stations are available to use free of charge for electric and hybrid cars on the 2nd floor of the West Garage.
Boise Airport Parking Rates
Starting airport parking fees are similar: $1 per each 30 minutes.
Short-Term Lot costs $21.50 per day.
Long-Term Central Garage costs $11.50 per day.
West Garage short-term costs $21.50 per day and long-term costs $11.50 per day.
Long-term Surface Lot is behind the Garage and costs $9.00 per day.
Economy Lot costs $7.50 per day.
Every parking facility is open 24/7.
Payment is accepted with all the major credit cards or checks as well as cash. While using a credit card at the entrance your time and date will be fixed and recorded. When your trip is over, just insert the same card at any Express Park exit lane and the barrier will open.
---
🅿 Book Parking Online NOW
Boise Airport Parking Map
---