Austin-Bergstrom Airport Parking
🅿 Book Parking Online NOW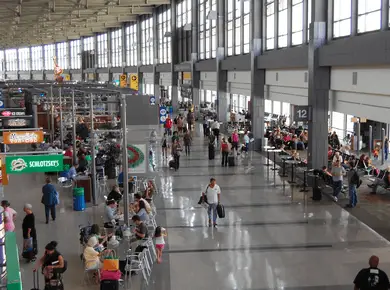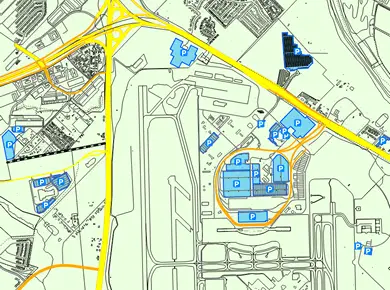 Austin–Bergstrom Airport or ABIA is located in Austin, Texas, United States. It manages to handle the Greater Austin region, which is the 31st-largest metropolitan area in the United States. Austin airport is located just 5 miles southeast of Downtown Austin district and includes two terminal buildings as well as two runways. The first one is called Barbara Jordan Terminal and you can get there from SH-71, the second - South Terminal can be approached only from the south side of the Airport campus. It operates more than 10 million passengers every year. ABIA does its best to be in line with public perceptions, reducing its impact on the environment by using alternative fuels, recycling, reducing electric and water consumption, and building with recycled materials.
Austin-Bergstrom Parking Options
The main terminal is connected to a 3,000 parking spots public garage. Right next to it you can find the combined rental car office and cleaning facilities, which you can reach via walkway to the Terminal. Austin airport parking offers several comfortable short term and long term parking options, together with self-park and parking assistant services. There is a total of 6 choices available: Executive Valet, Family Friendly Valet, Reserved Garage Parking, Garage Parking, Blue Garage and Economy Parking. First two allow very fast park in Austin airport. Don't forget to use Austin airport parking coupons in order to cut the cost of parking fees.
Austin-Bergstrom Airport Parking Rates
The Economy Parking is a perfect choice for a short leave, as it is the most lo-cost option, the daily fee is only $8. You will receive the help of garage assistants who direct drivers to open parking spots. You can also collect a parking reminder card, so finding your car after return becomes as easy as possible. Shuttle service is available 24/7 to get you to the Terminal and back.
Executive Valet Parking is located right in front of the Terminal, on the third level of the Main Garage. It is the closest underroof parking lot and it costs $29 per day. You can contact the valet office upon arriving to get your vehicle ready and waiting for you.
Family Friendly Valet Parking is also located on the level 3, opposite to the Terminal building and it costs $19 per day. Valet parking services also available.
Reserved Garage Parking offers a guaranteed parking space for everyone, who reserved a parking spot online and paid a $4 fee for reservation ahead of time. Daily cost is $25. It is located on the first level of the Main Garage.
Garage Parking occupies three-level structure of the Main Garage in front of the Terminal. It is a self-park and the fee is $25 per day.
Blue Garage is a six-level parking lot, situated behind the Main Garage building, and it takes only a few minutes' walk to get there. It is a self-park and the fee is $25 per day.
There are also plenty of parking lots at the South Terminal and the fees are $16 per day for short term stay and $10 per day for long term stay.
---
🅿 Book Parking Online NOW
Austin-Bergstrom Airport Parking Map
---