Atlanta Airport Parking
🅿 Book Parking Online NOW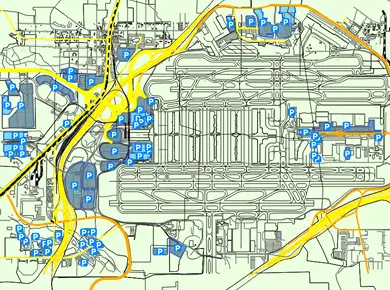 Atlanta international airport Hartsfield-Jackson is considered to be the best airport in North America according to several criteria. In addition to this, the airport is one of the busiest in the world. So, it isn't difficult to imagine how a parking garage is overloaded. Atlanta international airport parking zone is as overwhelmed with transport and people as its terminals are. Not all travelers can easily find the best place to park at Atlanta airport and it doesn't sound surprising. Using our website, find easy airport car parking: select amenities and calculate cost.
Best place to park at Atlanta airport
If to consider parking within the airport, it has around-the-clock parking type. The majority of spots have quick access to both terminals: domestic and international. The airport offers hourly and long-term parking, Atlanta airport also includes the economy parking area. This thing is worth mentioning – the parking zone is divided in almost 30000 lots to fill parking needs of all passengers. However, only some places in the area are located in convenient zones with short walking distance to the terminals.
Remarkably, not long time ago Hartsfield airport parking was equipped with 100 electric vehicle charging spaces. Atlanta airport electric car parking has regular price because electric vehicle charging is absolutely free.
Off-site parking Atlanta airport  
Off-site parking Atlanta airport has many spots around to accommodate a vehicle for any period of time. Whether it's long or short car stay, the best idea is to look through the list of Atlanta airport hotels with free parking. Believe it or not but a lot of hotels are about to provide parking areas for low price. It's a smart step to acquire more loyal clients and more and more travelers use the service with pleasure.
Moreover, some hotels took it a step further. Just imagine hotels near Atlanta airport with shuttle and free parking! Think about it, you can get two services and not to pay extra money. It's a good option for cheap airport parking and many people already see the best side of it.
Atlanta airport parking rates
ATL airport parking rates usually vary according to parking conditions. For example, short-term parking will cost you approximately $3/hour. If you would like to leave a car in covered zone for daily parking, the price will be $3/hour and $19/day maximum. Atlanta airport parking fees for economy parking are the following: $3/hour and $14/day.
If it's important for you to know how much is parking at the Atlanta airport, don't forget about discounts. Every traveler can easily find Atlanta airport parking deals and save some money. Hartsfield-Jackson cares a lot about customers' convenience and often offers special deals and discount coupons. Atlanta airport parking coupons allow to save up to 20%.
Atlanta Airport Parking FAQs
Can I Leave My Car at The Atlanta Airport?
Yes, you can leave your car at the Atlanta Airport. There are a few things to keep in mind, however. 
First, the airport has a daily parking fee of $15. You will also need to purchase a parking pass from the Parking Department. Secondly, be sure to arrive at the airport well in advance of your flight. The average time it takes to check in and security is 45 minutes.
Why Is Atlanta So Popular?
Atlanta is a popular city because it offers a unique mix of Southern hospitality and big city conveniences. Situated near the foothills of the Appalachian Mountains, Atlanta is home to major corporations, world-class universities, and award-winning arts and culture. The city also boasts an extensive transportation infrastructure, making it easy to get around town. With so much to offer, it's no wonder that Atlanta is one of the fastest-growing cities in the country.
How Much Does Parking Cost at Atlanta Airport?
Atlanta Airport parking costs depend on the terminal you are parking in and the length of time you will be parked. The North and South Economy Parking lots charge $3 per hour, while the international Terminal parking garage charges $4 per hour. If you are planning to stay overnight, there are also daily rates available: $10 for North and South Economy Lots, and $30 for the international Terminal parking garage. Credit cards are accepted at all parking facilities, and cash is accepted at some. For more information on specific rates and payment options, please visit our website or call our customer service number.
---
🅿 Book Parking Online NOW
Atlanta Airport Parking Map
---