Appleton Airport Parking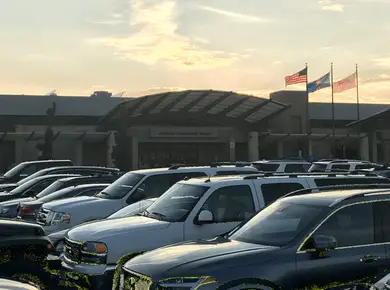 Appleton public airport was founded in 1965 in Outagamie County, Wisconsin, United States. Thanks to the steady modernization process, the airport has undergone major changes, which resulted in turning into a self-funded enterprise. Nowadays ATW is recognized as the third busiest passenger traffic airport out of eight commercial airports in Wisconsin state. All the major passenger transportation services are provided by Allegiant Air, American Eagle, Delta Air Lines, Delta Connection and United Express airlines, with nonstop traffic to 10 destinations.
Recently renewed terminal is a single-tire building. But don't be too quick to judge its size, as it has all the necessities, which can fully accommodate modern tourist demands: restaurants, bars, gift shops, free Wi-Fi access, and even mother's room. The facility is designed in a way to meet the strict goals for Net Zero Energy buildings. This means, that the airport can independently provide as much energy as it consumes. Their new main focus is to become carbon neutral by 2030.
Appleton International Airport parking options
Appleton airport parking service offers 4 options: Valet Parking, Short-Term Lot, Long-Term Lot and a Cell Phone waiting lot. Valet Parking is the closest option, as it is located right across the airport entrance. The next option is a Short-Term lot, which also includes covered parking spaces. The Long-Term lot is located less than few minutes away from the terminal but offers the most convenient prices. All the Appleton airport parking lots are outdoor-type and work 24/7 so you can access your vehicle at any time of the day or night. The cost of parking at Appleton airport can be easily found on our website.
Appleton airport parking fees
Valet Parking charges $10 for the drop-off and additional $8 for each day of parking. Short-Term parking lot charges $2 for the first hour and up to $15 per day. Long-Term parking lot starts at $3 for the first hour, up to $8 daily (or more than 6 hours). Both Short-Term and Long-Term parking lots offer the first 30 minutes free of charge. Long Term parking at Appleton airport is also offered at a weekly rate of $40. The Cell Phone lot is absolutely free, but it should be used only for picking up passengers, as the vehicle driver has to be near the car, and cannot leave it unattended.
Parking at Appleton airport is especially easy and comfortable. Upon arriving at the parking lot you will receive a ticket. Upon exit, insert the ticket into the automated machine, pay up and receive a printed receipt. You can pay the parking fee with a credit card (Visa, MasterCard, American Express, Discover and debit cards) or cash (you will receive the change). There are parking machines at the parking lots and the terminal.
---
---