Albuquerque Sunport Parking
🅿 Book Parking Online NOW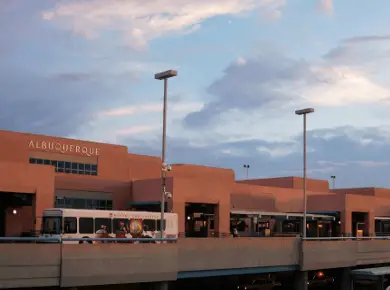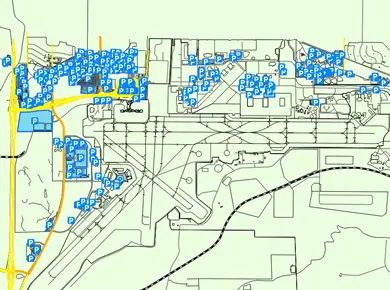 Albuquerque International Sunport (ABQ) is the largest commercial airport in the state of New Mexico.It caters to the needs of passengers of the cities of Albuquerque and Santa Fe, although Santa Fe has a municipal airport. The airport is located about three miles from the downtown area of Albuquerque. the city is known for its historic sites, festivals, museums and landmarks. Albuquerque Airport is your gateway to New Mexico also called the "Land of Enchantment". The airport handles about 4.7 million passenger movement annually with an average of 367 takeoffs and landings daily. The airport is served by seven air carriers providing 24 nonstop service to cities across the country. Since Albuquerque Airport is busy all year round parking can be rather difficult. Through our website, you can choose from a variety of parking service, select amenities, and calculate costs, making your ABQ airport parking experience a piece of cake.
Albuquerque International Airport Parking
Albuquerque Airport offers three parking options. The four-level Parking Garage is adjacent to the terminal with a covered access. It is ideal of hourly or daily stays. The Economy Lot is located directly north of the garage. It is a cheaper option for long term parking. The Credit/Debit Lot is located east of the parking structure with self-pay terminals that only accept credit and debit cards. It is another option for Sunport long term parking.
Because the airport is just a few minutes from the city, there are car parks, garages and self-storage facilities you might want to consider to parking at Albuquerque Airport. Most of these car parks offer competitive rates, and extra amenities and services including free shuttle to and from the airport, luggage assistance, and car maintenance. For more details about parking service options and costs, consult with our friendly staff.
Sunport Parking Rates
Garage Parking Lot parking costs $4 from one to three hours, and $10 per day. For Economy and Credit/Debit Lots, parking costs $1 for up to 30 minutes, and $7 for over 30 minutes which is also the daily rate. Off-site parking cost starts at $4 daily for uncovered parking lots, and at $5 daily for covered lots. You can make use of your Albuquerque airport parking coupon for special rates. Save time and spend less when you get in touch with us. We can provide you with a selection of parking options and compare costs, making your airport parking in Albuquerque pleasant, easy, and economical.
---
🅿 Book Parking Online NOW
---