Aberdeen Airport Parking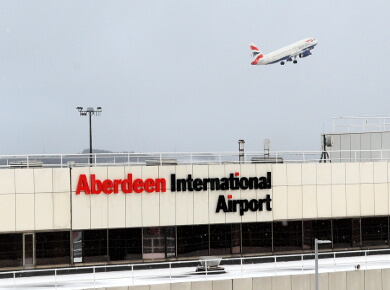 Aberdeen airport is an international airport with almost 3 million passengers volume annually. There is a small tendency of a volume decrease within the last few years, however, travellers still use the airport for their trips. Aberdeen airport car park is a topic of interest for many passengers, as the majority of them like to come to the airport by their personal vehicles. It is not surprising that they want to get the best parking place but keep their budget safe at the same time.
Facts about Aberdeen airport parking
Needless to say that sometimes a car parking can be a confusing situation. A parking procedure isn't so pleasant as dining in an airport cafe or having rest in a lounge zone. Passengers spend time searching for cheap Aberdeen airport parking and choose between all possible options. It is always more convenient to book a lot in advance, so you won't face problems connected with queues.
The airport has several parking types: long stay, short stay and priority parking areas. Long term parking is located not far from the terminals, but a passenger should use a shuttle bus to get to the terminal. Considering Aberdeen airport parking, short stay zone is much in demand because it is in close proximity to the check-in point. A traveller can reach it very quickly, walking time is 1-3 minutes. Short term parking also includes several covered spaces. Priority parking is situated just near the terminal and, in addition to this, a person can use a special priority security access.
Aberdeen airport parking rates
Aberdeen airport parking prices mostly depend on its type. The cheapest car parking (long stay) costs £30.99/2 days, £34.99/week, £51.99/10 days. However, prices aren't very affordable, especially, when a traveller has a very limited budget. As for short parking, it is more expensive: £39.99/2 days, £40.99/week, £66.99/10 days. Leaving a vehicle in Priority Parking will cost you almost £54 for 2 days and £70 for a week.
Don't even try to deny that Aberdeen airport parking charges can upset its clients. It is not a good solution to economize on a trip but we all want to spend money on pleasant emotions during travelling. That's why it is better to choose cost-efficient parking services near the airport. Search this website to find out more about off-airport parking and don't hesitate to use our tips for cheap parking.
---
Aberdeen Airport Parking Map
---